See what the Flex can do for you
The most complete, fully mobile setup in the Clover ecosystem. Flex is a full-fledged POS, terminal, and business management system. All in the palm of your hand. Protect your business and customer information with end-to-end encryption and data tokenization, integrated EMV chip sensors, and fingerprint logins.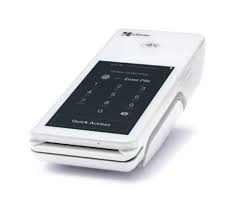 How can Clover Flex help your business?
The compact size and versatile connectivity are not the only reasons businesses and their employees love the Flex.
Many merchants use it as a simple credit card terminal to process EMV chip cards and NFC payments, such as Apple Pay, Google Pay, and Samsung Pay.
Many others choose to take advantage of the device's additional features, such as managing sales, customers, employees, and inventory.
But payments and reporting aren't the only features that make the Flex great. You'll appreciate the additional benefits that will enhance your business.
The built-in Loyalty Program will help increase your relevance by rewarding your most loyal and profitable customers and sending out promotions to bring back customers you haven't seen in a while. Plus, available Clover Gift Cards will bring in additional revenue.
As a Clover POS device, the Flex offers access to the Clover App Market, where you can customize the payment terminal even further.
Help your business grow with the Clover app
User-friendly design: The Clover app is easy to download and set up, allowing you to generate new sales right away. To get started, all you need is a mobile device and the Clover Go mobile credit card reader.
Cross-platform support: Available for iOS and Android, the Clover app allows you to securely process payments—whether you're on-site or out of the office.
Options for customization: You can expand your flex capabilities using any number of plugins and add-ons—all of which are available on the Clover App Market.
Always up to date: The Clover app is constantly updated for usability and security—ensure you always download the latest update from the App Store or Google Play.
Everything your business needs. In one simple, smart, reliable device.
Sales-ready: Start taking orders out of the box, with minimal set-up and training.
Stock-smart: Categories, labels, modifiers and variants help you keep your inventory up-to-date and organized.
Customers to loyal fans: Create a fun, effective loyalty program within minutes—absolutely free, no strings attached. We've got custom-branded gift cards, too.
Track your numbers: Log in any time, anywhere to see your sales, best-sellers, and everything else from any computer or mobile device.