Station POS is a fast and powerful POS system
Station POS comes with a smart terminal for your customers. That means they can confirm their orders and complete payment faster. Protect your business and customer information with end-to-end encryption and data tokenization, integrated EMV chip sensors, and fingerprint logins. Station POS is our fastest, most powerful POS system. From inventory and orders to managing your staff and running reports, it's all at your fingertips.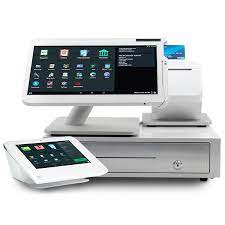 Best Point of Sale Systems for Pizza Restaurants
Following the criteria outlined above, the following systems were selected as the best for Pizza restaurants:
Clover Pos: The Best Plug-And-Play Positioning
A full-service restaurant POS system, Clover offers many useful features for counter-service and table-service establishments. It offers modules for tracking ingredients, online ordering, and delivery. While Clover's Counter Service plan includes online ordering, bar tabs, tips, shifts, promotions, and other features, Clover's Table Service plan includes floor layouts and table management.
Clover is an all-in-one solution that integrates hardware, software, and payment processing, so it's incredibly easy to set up and use right out of the box.
Many Clover POS apps are available from the Clover App Market, including pizzeria-specific apps like Slice (free) and Swift Pizza ($19.95/month).
Features
Clover Dining plans include online ordering.
Third-party delivery apps can also be used. These are some of the Clover features that make it one of the best POS systems for pizza restaurants:
POS hardware that's sleek and long-lasting
There are separate plans for counter-service and full-service restaurants.
Systems for placing orders on a tablet
There are several pizza restaurant applications
Easy-to-use loyalty program
Scan to Order and Scan to Pay for contactless ordering and payments
Pricing
Clover offers counter-service packages for $49.95 per month and table-service packages for $69.95 per month for one terminal. Each additional device costs $9.95 per month. Apps that increase Clover's functionality (like those for pizzerias) may increase the monthly fee.
Pros
Easy to set up
Numerous apps and integrations
An all-in-one device
Streamlined operations
Central command: One central hub for power and processing. One screen for you, one for your customers.
Faster processing, faster deposits: Run chip card transactions in less than three seconds. And with Rapid Deposit, you can get your money in minutes, not days.
Insights at your fingertips: Harness the power of your own data—see the patterns and trends driving your sales and take a smarter approach to marketing.
User friendly interface: Your staff can start taking orders with minimal training.
Fast processing speed: Cut chip card transaction time down to under 3 seconds—and serve more customers
Anywhere anytime access: Access your data anywhere you need to run your business: on the floor, at the office, or on the road.
Help your business grow with the Clover app
User-friendly design: The Clover app is easy to download and set up, allowing you to generate new sales right away. To get started, all you need is a mobile device and the Clover mobile credit card reader.
Cross-platform support: Available for iOS and Android, the Clover app allows your credit card reader to securely process payments—whether you're on-site or out of the office. It even has an offline mode for those times when Wi-Fi isn't available.
Options for customization: You can expand your mobile card reader's capabilities using any number of plugins and add-ons—all of which are available on the Clover App Market.
Always up to date: The Clover app is constantly updated for usability and security—ensure you always download the latest update from the App Store or Google Play.