Converge Omni-Commerce Payments Platform
Build Your Empire with Converge
Accept payments in any location, over the phone, by mail, online, or on the go. Converge is a payment platform that enables you to grow your business the way you want.  It was built to be truly flexible, so you can add or remove services as needed.  For example, you might want to add terminals and printers as your business grows.  Or you can start accepting payments on your computer, laptop, or tablet with our Virtual Terminal.
Converge is an integration solution – which means you can access all of your devices at every one of your locations from one login account. Once you login, you can manage all aspects of your business's revenue with one beautiful, easy-to-use dashboard.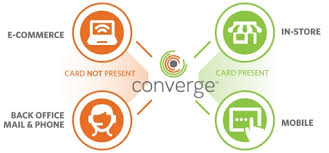 Never Miss a Sale with Converge Mobile
Bring the checkout counter to your customer, wherever they are. With Converge Mobile, you have the perfect sidekick ready to wherever your staff needs to be.  Accept payment on delivery or use it as a backup in your store during peak times.
Converge Mobile is also a great option for businesses who need to prepare for the unexpected. Don't let a power outage or slow Internet bring your business to a halt.  With Converge Mobile, as long as your mobile device is charged and has data access, you can continue to process transactions as normal.
Set up is simple – all you need is a compatible Android or iOS device and our free Converge Mobile app.  We offer optional encrypted card readers and mobile printers to help make each sale seamless.  Or, if you prefer, you can enter card data directly into the app. No payment data is stored in the app or on the card reader, so if either device is lost, broken, or stolen, your customer's card information is safe.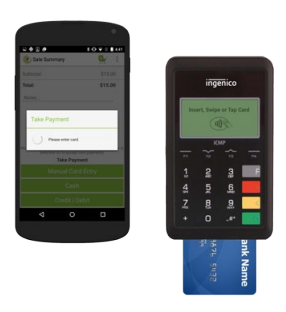 Converge Digital Commerce and 3dcart®
Whether you're bringing your business online for the first time or need a better way to manage and grow your current online store, we have you covered.  Converge Digital Commerce is a powerful suite of online solutions integrated with Converge, our omni-commerce payment platform.  Through our partnership with 3dcart®, an all-in-one-ecommerce platform, we can help take the guess work out of launching and managing your online business.  Easily build an online store with 3dcart that presents itself beautifully on all types of devices – mobile and web.  Because Converge is already integrated with 3dcart, once your store is open for business, you're ready to start accepting payments too.
3dcart makes it easy to get up and running with e-commerce in no time.  Create a professionally-designed storefront that best represents your brand and your style.  Choose from over 100 mobile-ready and search-engine optimized (SEO) themes that can help drive website visits and online purchases, upload photos of your products, configure your store settings for tax, shipping and payment methods, and you're ready to launch.  It's really that simple.
Operating your online store is a breeze too.  Manage inventory, process orders and returns, print shipping labels, and communicate with your customers using the intuitive, administration tool.  It's everything you need to build, manage, and market your online store.
Converge Omni-Commerce payment platform in partnership with 3dcart® is an all-in-one e-commerce platform
Everything merchants need to build, manage, and market their online store.
Easily build an online store
Merchants can be up and running with e-commerce in no time
Create professionally-designed storefront
Choose from 100 mobile-ready and search engine optimized themes that help drive website visits and online purchases
Upload photos of products and configure store settings for tax, shipping, and payment methods
Manage inventory, process orders and returns, print shipping labels, and communicate with customers using the administration tool