Zero-Cost credit card acceptance is now possible.
Expand your options for lowering costs.
There are many ways to lower your costs and improve your take home profit. That might be why you've considered limiting the brand of credit cards you accept, or even accepting them at all. However, when over 70% of Americans prefer to use a card, you know that credit cards are considered just another cost of doing business in today's market. But what if you could continue your business operations while offsetting those costs? EPNA's 0% Cost program may just be the answer for your business.
Our zero-cost acceptance program makes your cost for credit card acceptance free. How? By charging the cardholder – instead of your business – a surcharge fee on every credit card transaction at the time of sale. No matter the credit card, you can reliably accept credit card payments without thinking about the cost to your business.  You pay only a flat-rate debit card acceptance cost of just 1% + $0.25 per transaction.
All you need to get started is either a Tetra terminal or a website supported by our Converge platform.
Take charge, literally and figuratively, with confidence through the predictability of our 0% cost pricing program.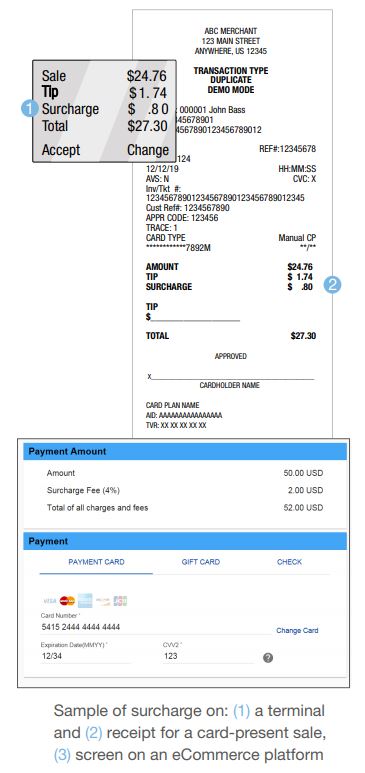 Supported Regions
All United States regions except for:
Colorado
Connecticut
Kansas
Maine
Massachusetts
Oklahoma
Puerto Rico
Supported Stand-alone
Tetra Desk3500
Tetra Desk5000
Tetra Move5000
Supported Card-Not-Present
Converge Implementations
Hosted Payments Page
XML API
Buy Button
Virtual Terminal
JS
Processing Details
EPNA's 0% Cost program works with all major credit card brands.
Debit card transactions are always 1% + $0.25 per transaction.
Fee only charged if a cardholder uses a credit card.
The 0% Cost Program does not apply to debit cards or government-issued prepaid cards.
If a return is issued to a cardholder for a 0% Cost transaction, the proportional amount of the surcharge will be refunded to the cardholder as well.
Top Five Industries for Surcharging