Go where your business takes you
Take your business to your customers with this sleek, compact mobile credit card reader and app that pack a lot of processing power. Whether at the local farmer's market or at a customer's job site, you can accept payments on the go, wherever you have a Wi-Fi or cellular connection.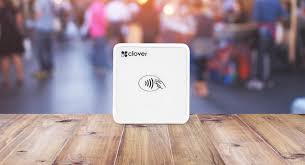 Manage your business, on the go
Sales-ready technology: Build orders, take payments, run reports, and email or text receipts, all from the Clover Go app.
Customize your Go: Set discount, tip, and tax rates relevant to your business directly through the POS dashboard on your phone.
Bird's eye view of transactions: See your entire transaction history, including all open, pending, and completed transactions—whether those sales are generated from your mobile credit card reader or from another one of your Clover devices.
Help your business grow with the Clover app
User-friendly design: The Clover Go app is easy to download and set up, allowing you to generate new sales right away. To get started, all you need is a mobile device and the Clover Go mobile credit card reader.
Cross-platform support: Available for iOS and Android, the Clover Go app allows your credit card reader to securely process payments—whether you're on-site or out of the office. It even has an offline mode for those times when Wi-Fi isn't available.
Options for customization: You can expand your mobile card reader's capabilities using any number of plugins and add-ons—all of which are available on the Clover App Market.
Always up to date: The Clover Go app is constantly updated for usability and security—ensure you always download the latest update from the App Store or Google Play.