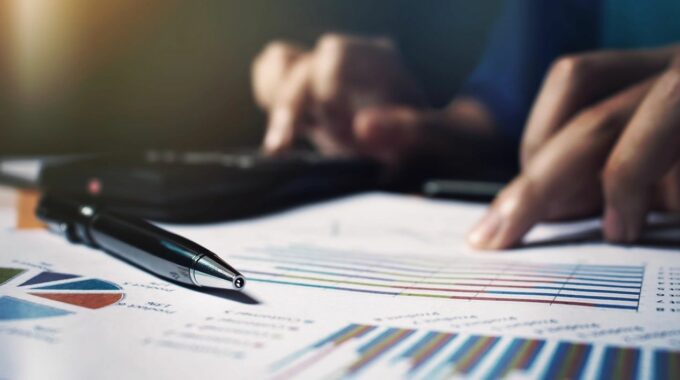 EPNA® Announces Payment Optimization Service
Today, more than ever, businesses and government entities prefer to use a corporate, business or purchasing card to pay make purchases or pay for business services.  Additionally, more businesses issue commercial cards to their employees as a way to track expenses.  This trend can increase merchants' card acceptance costs.
EPNA's Payment Optimization system gives merchants of all types the ability to save on their cost of commercial card acceptance by ensuring business, corporate, and purchasing cards clear at the lowest-cost interchange qualification categories for commercial card types.  With Payment Optimization through EPNA, merchants will experience:
Automatic savings on interchange costs (pass-through costs from the card associations)
The service is compatible with most point-of-sale devices, software or Internet solutions.
No upfront costs or obligation
Cancel the service at any time
Call or contact EPNA at

[email protected]

to start saving today!
 How the Service Works:
EPNA uses proprietary systems and algorithms to optimize monthly Level 2 and 3 interchange savings.
EPNA's data enrichment program for Level 2 and Level 3 transaction clearing populates all the required data fields that were missed by the merchant or not available through the merchant's payment acceptance solution.
We share a portion of the interchange savings for the transactions on which our system has intervened on your behalf with you.
All you need is an EPNA merchant account to begin saving on commercial card costs.
Trends
Commercial Card use has increased as more companies benefit from:
Automating payments (no more costly checks to process).
Improving security over supplier payments.
More control over expenses (travel, purchases, fleet/fuel).
Flexibility and setting spending limits.
Rewards and perks associated with card usage.
 Merchant Impact
Increase in percentage of sales using commercial cards
Higher acceptance cost cuts into your bottom line. (Commercial card Level 1 interchange rates are high and can exceed 3%.)
Most merchant solutions are not able to pass the data elements required for Level 2 and Level 3 interchange rates.
Types of Commercial Cards:
Business cards are used by small businesses
Corporate cards are used for business travel
Purchasing cards can capture invoice details
Government cards are used for spending (GSA)
Fleet cards capture fuel and other fleet data
Commercial Card Level 1-2-3 Data Points 
Level 1 is basic card data, similar to consumer cards (limited purchase data) – highest interchange cost.
Level 2 rates apply when the customer code and tax amount are provided – mid-level interchange cost.
Level 3 rates apply when invoice-like data is provided as indicated in the chart below – lowest interchange cost.
1Downgrade transactions are not eligible for Level 2 or 3 optimization.  Downgrades can occur for several reasons; i.e., no address verification performed on card not present transactions, authorization and settlement amounts not matching, or late settlement for merchant type, to name a few.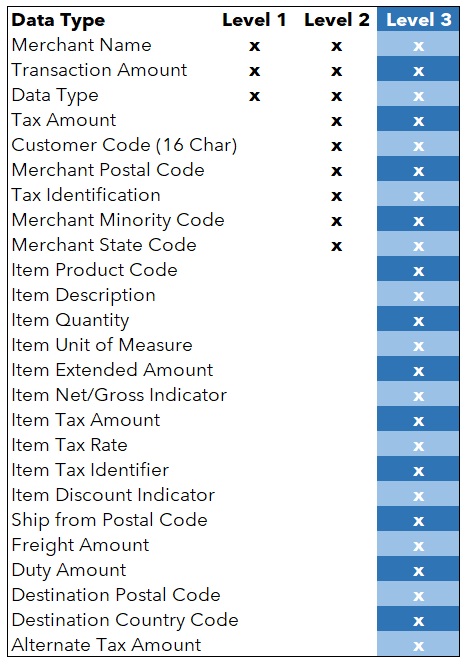 ABOUT EPNA
EPNA (Electronic Processing of North America, LLC) – a WBE certified merchant services provider also certified in professional, scientific and technical services – offers a broad range of electronic payment acceptance solutions to businesses and public entities. EPNA provides services to merchants of all types and industries. EPNA also offers a zero % cost processing option, where the cost for card acceptance is transferred to the cardholder.  EPNA provides transparent pricing, next-day funding, 24/7/365 friendly customer service, and no contract requirements.
EPNA partners with Financial Institutions, CPA's, Consulting Firms, Private Equity Firms, and many more. In 2018 the company opened a store-front office, a novelty in the processing space, where merchants can test the latest payment processing solutions before making a purchase to help them envision and plan the next phase of their business. "Payment Optimization is a game-changer, saving merchants on processing costs that are assessed directly by the card associations. Merchants no longer need to dread accepting high-cost commercial cards and can focus on growing their business," states Esther Pochron, Chief Sales and Marketing Officer.
For more information, visit: https://epnallc.com/.[/vc_column_text][/vc_column][/vc_row]